Goodies!
Welcome to the goodies section. We got yer
Wallpapers
, we got yer
Phone backgrounds
and we got yer
T-Shirts
. Also if you fancy a bit of fun and games, why not head over to the
Flash section
?
Wallpaper
Phone Backgrounds
Here are some images you can use for the background of your mobile phone. They have been designed to fit the screen size of
my
phone, but hopefully they won't be far off other phones' screen sizes either. If you need one a different size, don't resize these one -
email me
and ask. That way it will be the best quality and I can add an option to download it for your phone model.
T-Shirts
Welcome to the Yak Shack Shop. We are currently stocking T-Shirts, although if you think there is any other item which would sell well (if you would buy one that's a pretty good start!) just
let us know
! To pay, all you need to do is follow the paypal link and 'donate' the price indicated for the shirt you want. Make sure you add in the comments box (second screen) the details of your order, such as the size you want and the style.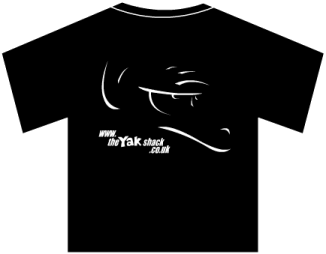 The Yak Shack - Black sillhouette T-Shirt - £16
Available in S, M, L, XL in 'Normal' and 'Women's fitted' styles.
Style shown is M, Women's fitted


The Yak's Back - White Full Colour T-Shirt - £17
Available in S, M, L, XL in 'Normal' and 'Women's fitted' styles.
Style shown is XL, Normal